2016 – This is the only time of the year I like to look backwards. The long hours waiting between artists, to get the opportunity to photograph 3 songs, with the intention of capturing one shot in a millisecond of the performance, that tells a story and flatters the artist with emotion, passion, spectacle, and brilliance. When I look back at a yearly collection of images I've shot, to make my favorites list, I must instantly recall the time, place, moment, & emotion when it was captured. If the final image pleases me, it is my hope you feel the same. Two major Country music festivals (Chicago's Country Lakeshake, & RT91 Harvest Festival in Las Vegas) were highlights of the year for me. In St. Louis, MO., celebrating my 10th year as the house photographer at Hollywood Casino Amphitheater, I attended about 40 concerts, 150 + bands. I was fortunate to be in the building when Bruce Springsteen and the E Street Band came to town with the 'River Tour' at Chaifetz Arena, as well as seeing one of Brian Johnson's last performance's with AC/DC at Scottrade Center, before exiting the band due to hearing loss. This may have been one of the most diverse years of music I've covered, witnessing iconic artists within the genres of Rock & Roll, Country, Rap, as well as the second & third acts on the bill that stood out as future superstars. If you are returning to my website because you enjoy music photography, I thank you sincerely for your support. If you are new, welcome! Make sure you hit me up on Facebook and Instagram (@rknphoto) for real time updates. There are 78 images in this collection. Below, I will post eight favorites here, then click the link to take you to my Zenfolio site, to see all. Here's to a great 2016 concert season, & to 2017, which is already being penciled in to be even more awesome. KW
Bruce Springsteen – I attended the show as a fan, with a single ticket bought for me by a friend, who in exchange asked that I get a 'good shot' for him to hang on his wall. From my seat, with my point and shoot Canon G1X MKII camera (legal, non-removable lens) I snapped away, and all things considered, came home with several images that I liked. But this one, sums up the whole experience, and would turn out to be my favorite shot of the year (ironically, my favorite shot from 2015 was also captured with the Canon G1XMK II). I can honestly say, this was one of the greatest performances I've ever witnessed. If you are a music photographer, and Bruce Springsteen falls backwards into the crowd, and proceeds to crowd surf atop fans lucky enough to be in the right place at the right time, these are the moments you dream about.
Bruce Springsteen, 3/6/2016 Chaifetz Arena, St. Louis, MO.
Ryan Tedder/OneRepublic, 8/4/2016 Dome at Americas Center, St. Louis, MO.
I was contacted by an event organizer company out of Utah, to see if I would be interested in a corporate function. At first I was hesitant, because I'm not really comfortable as an event photographer. He explained that one of his favorite bands is being brought to St. Louis, to perform for the corporation's employees, and that he wanted photos of only the artist performance. I'm in. I was not told who the band was until the day before the gig, which was kind of cool, adding mystery and speculation who it would be. Turns out it was one of my favorites as well. I captured many traditional performance images, but this one was my favorite, Ryan Tedder at the piano, in the moment, moody lighting, and he paused just long enough for this capture.
Dierks Bentley, 8/12/2016 Hollywood Casino Amphitheatre, St. Louis, MO.
This was a strange evening. A bad storm had blown out a transformer (sounds fancy, not really sure what happened). The majority of stage lighting was out. Opening act Randy Houser performed almost entirely in the dark. They managed to come up with a spontaneous band aid fix for Dierks Bentley, and the show went on. I often shoot from the soundboard, this location shows the stage production, as well as fans in the foreground, if you choose. When you have an artist who is great with fan engagement, and everyone is partying with their hands in the air like they just don't care, it's a no brainer to snap away and come home with something that captures the moment.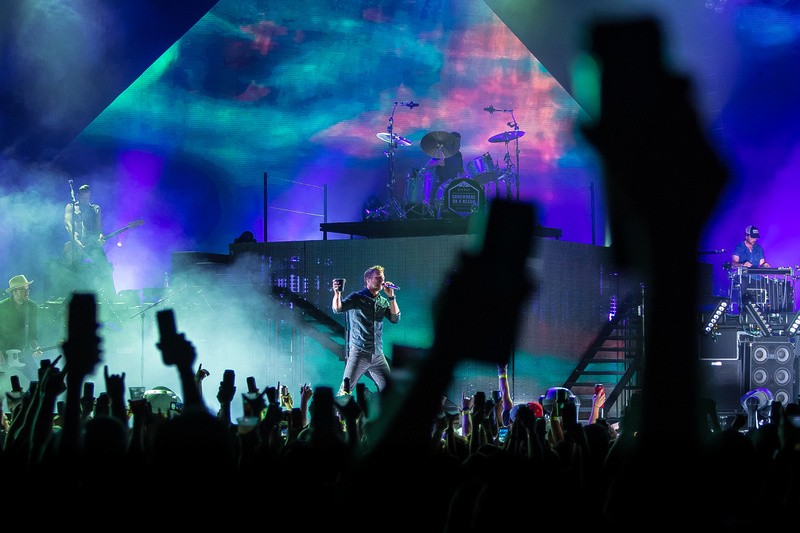 Snoop Dogg, 8/17/2016 Hollywood Casino Amphitheatre, St. Louis, MO.
I think I processed more images in black & white this year, than ever before. Some images simply work better in living 'no' color. This shot of Snoop, was between a lyrical break, as he was enjoying a drag from his self rolled tobacco product. I was waiting for the exhale, with the hopes he would be profile to my angle… Thank you for playing along Mr. Dogg. Snoop, and Wiz Khalifa rolled into town (pardon the pun). The tour was billed as 'The High Road", presented by 'Merry Jane Productions'. From what I remember, it was a great show 🙂
Angus Young/AC/DC, 2/20/2016 Scottrade Center, St. Louis, MO.
I grew up with the music of AC/DC, always one of the better shows whenever they come to town. The stage and set was awesome, with a long thrust into the crowd. The many photographers that were there, had to choose one side or the other. Having seen the band perform many times, I went in with one shot in mind.. get Angus in the middle of his classic Chuck Berry Duck Walk. For me, this was a personal feel good moment, as Angus, dressed in his Santa Red Schoolboy outfit, mid solo, headed up the thrust a couple of feet from my reach. Add a back spotlight, and Brian Johnson in background,  I was very happy with this shot.
Mumford and Sons, 4/16/2016 Scottrade Center, St. Louis, MO.
A strong contender for favorite show of the year, the band was simply outstanding. I shot the first three songs from the stage front, and got a few good ones that I liked. Knowing I would be staying for the rest of the show, I brought along my buddy (the Canon G1X MKII). I was on the floor at the back of the arena, and noticed there was a 'satellite' stage located directly behind the soundboard. I was surprised not many people were hanging around this area. I grabbed a spot along the rail, and waited. Shortly thereafter, the band made their way to the satellite stage, and played 4-5 songs acoustically. Brilliant moment showcasing the band' roots, and strength. The cell phone cameras were going crazy, and glad I brought the point & shoot, because you just never know how the night will unfold.
Zach Myers/Shinedown, 7/23/2016 Hollywood Casino Amphitheatre, St. Louis, MO.
I'll show you two shots, the second one made this list. I was positioned at the front of the stage in the pit, dead center. I always love when the singer, or the lead guitar player, approaches the area I am located. If it's the guitar player, that typically indicates a solo is about to go down. Zach Myers is one of the best in the business, so as he walked toward me, if nothing else, I was about to experience a great rock n roll moment. The first image, is a good one. I would have been happy if this image was the only image from the moment. But patience prevailed, as Zach wailed, struck a pose directly in front of me, and it wasn't until later when I was editing, that I realized the Shinedown name was positioned within his open legs. I received many positive likes & comments with this shot, thanks mostly to Zach Myers sharing it on his personal social media. Probably my most popular image of 2016.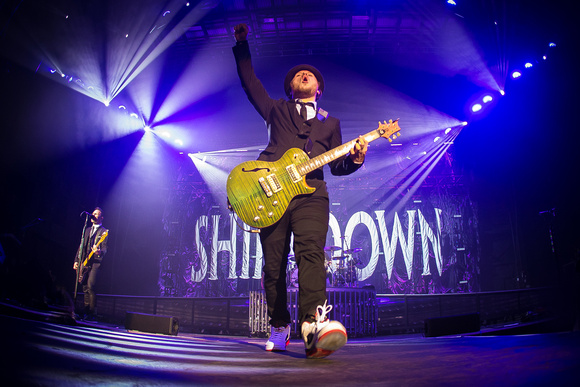 Route 91 Harvest Festival, Sept 30 – Oct 2, Las Vegas, NV
I had the honor to be the official photographer at RT91 Fest this year. Festivals are a lot of work, long days, countless hours of editing, over the course of three days. No complaints, the opportunity to shoot so many artists in one place is priceless. When photographing festivals, capturing the fans, the festival grounds, and experience as a whole, is just as important as the images of performing artists. This shot, as I was walking around the grounds following my 3 songs & out, is just a right place, right time capture. Beautiful Las Vegas in the background, music pumping, with a father holding his young daughter high in the air, both in the moment, moving with the beat. Passing on the live music experience from one generation to the next. My favorite image of the 1500 final edits I produced from the weekend.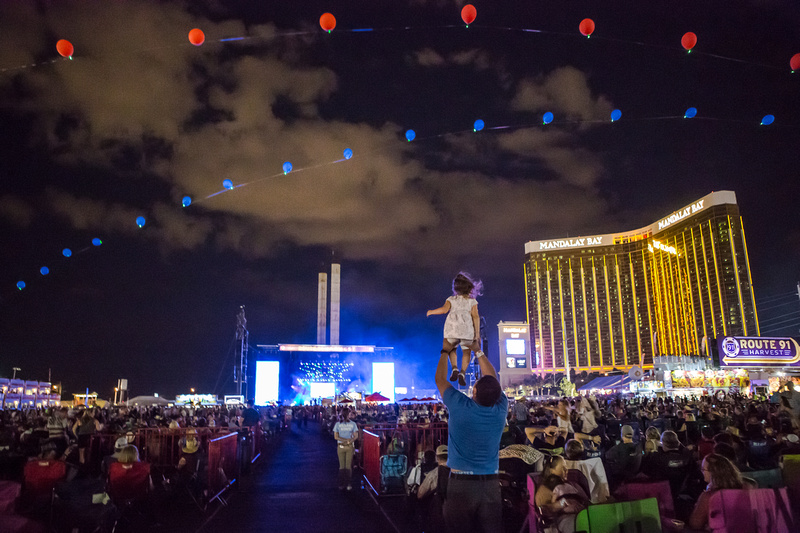 Thanks again for visiting RKNPHOTO!
KW
Click here to see all 2016 Favorites!
To see full sets from these shows & festivals, simply head to the Home Page at Zenfolio.
Thank you to my friends at Live Nation, Live Nation St. Louis, & Live Nation Nashville. None of these images would be possible without their continued support.
All images © Kenny Williamson