2015 – As always, I never take for granted the privilege of capturing moments during music performances. Looking back at 2015, I think I've had my most diverse year. Beginning with 10,000 + snaps, over 800 final edits, I've narrowed those to 50, which I feel is the best summary of what I do. The majority of the images I've selected, were shot during the first 2 or 3 songs of the artist performance, this is typical with granting permission to press & venue photographers from virtually every major tour, regarding use of pro gear, interchangeable lenses, etc. Although camera brand has nothing to do with the bottom line of good photography, I am proud to be a Canon user, with the excellent 5D MK III as my go to body. When I attend a concert as a fan, buying a ticket, taking a seat, I've begun bringing along a point and shoot camera, the excellent Canon G1X MK II. Five images in my top 50 were shot with this camera, including 1-3.  Notables: Having unlimited access as the official photographer for the Windy City LakeShake Festival in Chicago, allowed me freedom to look for angles and situations outside of my normal shooting environment, exhausting 3 days, but worth every second. Spending a day with the Smashing Pumpkins on assignment through Yamaha guitars, was a real treat, and special memory of the year. Seeing personal musician friends play on the big stage, having their moments of a lifetime, watching them mesmerize the audience with their talent, always brings me joy. The people I work with, and other photographers I work alongside in the pit, are fantastic, special folks, and is at the top of the list of reasons I love what I do. Thank you to Live Nation, and the crew at Hollywood Casino Amphitheatre for having me, it's truly an honor to be part of your Voo-Doo that you Do. Thank you to all who check in occasionally, leave feedback, or click 'like' on my Facebook page, I really appreciate your support. So, here we go. My favorite 50 shots from 2015.
My picks for the Top 10 are below, in order of my favorites. 11 – 50 will follow, in no particular order.
# 10 SMASHING PUMPKINS 6/23/15 The Pageant – St. Louis, MO.
I was hired by Yamaha Guitars, and invited to attend a 'semi-acoustic' performance by The Smashing Pumpkins. My assignment was to meet up with Jeff Schroeder, lead guitarist, and do several pre show portraits of him with various Yamaha prototypes. The evening that followed was magical in many ways, particularly being able to view, and shoot the show from the wings, allowing me to truly appreciate the musical artistry of Billy Corgan, and Jeff.
# 9 VAN HALEN 7/26/15 Hollywood Casino Amphitheatre – St. Louis, MO.
I think we photographers were shocked when we initially learned we would be granted 3 songs from the photo pit for VH. This show would end up being one of my favorite complete sets of images from any one artist. So much going on, on stage, it was big fun, and the show did not disappoint. This shot to me sums up the tone for most of their show.. Diamond Dave was all grins, campy, entertaining, and over the top with virtually every move & gesture. Eddie VH on the other hand, while being generous with his grins as well, mainly was all down to business, reminding everyone in attendance that he still has his mojo, and is deserving of being considered one of the greatest rock guitarists of all time. See the full Van Halen Set.
# 8 LAKESHAKE MUSIC FESTIVAL 6/20/15 – Chicago, IL.
Shooting for Live Nation, I was the official photographer for Chicago's inaugural Country Music Festival, LakeShake. More photos from this experience will follow in the top 50. Day # 2, was to feature Brad Paisley as the headliner. Bad weather, involving severe storms, with lightning, was moving toward downtown Chicago, and it was obvious festival organizers had to make the easy decision to postpone all performances after 7 pm, evacuating the property (First Merit Bank Pavilion). The remainder of the day would eventually end up being cancelled. While we all waited out the storm, there was a slight break from the downpour, and I decided to head out to the bleachers, and take my chances of capturing my first ever attempt at a lightning strike. I will tell you, it was scary, and it wasn't easy. I think this one was number 25 in a series of attempts of around 40 to get something I was happy with. This was captured with the Canon G1X MKII. By the way, Brad Paisley agreed to stay over night, and perform a Fathers Day co-headline show with Florida Georgia Line.
# 7 WIZ KHALIFA 7/14/15 Hollywood Casino Amphitheatre – St. Louis, MO.
Something I always look for, are the moments between, prior, and after the songs are over. Now and then, you'll catch the artist in an element which captures the mood, or emotion of the show, equally as expressive as during an actual performance action shot. Here is Wiz being Wiz, during his set with Fall Out Boy's, 'Boys of Zummer' Tour.
# 6 GREEK FIRE 12/7/15 The Pageant – St. Louis, MO.
If you've followed my work for any length of time, you will know I have been shooting this band since Fall of 2010. They write incredible songs, they give audiences incredible live performances, and they are all incredible human beings. The main mantra when shooting this band, is, you'd better keep up. Lead singer 'Moon' will use 100%, and every inch of the venue as his platform to connect with fans. After several trips back and forth, up and down from the balcony, I decided to sit my ass down in an empty seat in the balcony, where Moon would eventually end up directly below me, guitar and wireless mic in tow, surrounded by the standing room only folks on the floor, and do his magic.
# 5 SHINEDOWN 8/1/15 Hollywood Casino Amphitheatre – St. Louis, MO.
Whenever I shoot Shinedown, I come prepared for big sound, big lights, big fire, & lots of moving parts on stage. A wide angle lens is a must, and hopefully it's attached to the camera when you need it to be there. Lucky for me, it was for capturing this moment of singer Brent Smith, flanked on each side by flying guitarist Zach Myers, and bassist Eric Bass.
# 4 IMAGINE DRAGONS 6/12/15 Scottrade Center – St. Louis, MO.
Imagine Dragons have emerged as one of the best, and most dynamic live bands touring today. Lead vocalist Dan Reynolds commands the stage with energy & emotion, while always showing humbleness, and true appreciation to the fans that attend their concert. This shot is at the beginning of a song, where Dan seems to be taking in the sold out arena, standing stoic, proud, speechless, and thankful. See the full Imagine Dragons set.
# 3 – 1 FOO FIGHTERS
The Foo's played St. Louis on August 19th, then 10 days later in Chicago, at Wrigley Field. I shot the first 3 songs in St. Louis for Live Nation, then took my seat to become geeky fan boy. This was the most anticipated show of the year for me, and with Dave Grohl performing the entire concert seated in a chair/ 'Throne', due to a healing broken leg, I was unsure if this would be a show that I had come to expect from one of rock and roll's greatest front men. This would end up being the # 1 show of the year for me, unbelievable. I made the trek to Chicago, strictly as a fan, bringing with me my trusty Canon G1X MK II point & shoot camera.. my Top 3 images of the year, were all shot from my seat during the performance (& after), with non pro-gear.
My # 1, is at the close of the Chicago show. This entire tour, Grohl performed sitting down. In St. Louis, 10 days earlier, he stood up at the throne during a few guitar solo's, but sat right back down. When the Chicago show ended, the crowd could not get enough. The ovation lasted forever, but due to a strict time cut-off, the end meant the end. The band  gathered on stage for their bows, then this happened. With Dave Grohl leading the way, he slowly began to walk the length of the thrust, slowly, with his crutches. The crowd went completely nuts. With a final salute, both crutches were raised high, which was rewarded with an ovation usually given only to Pope's, and Donald Trump. This was a Hail Mary shot, because I was one of the people standing and clapping. When the crutches were raided, I turned the camera on, pulled the camera up to my eyes, saying to myself 'keep em up.. keep em up..', then hit the shutter button just in time. My fear was that I may have been shaking too much resulting in the greatest 'fail' shot ever. But all worked out, and this is one of my favorites not just from the past year, but up there of all time. More Foo Fighters
11 – 50 no particular order, personal favorites:
The 'Catwalk Thrusts' are often a music photographers best friend
Drummers are the hardest band members to shoot. Often hidden behind their kit, shadows, movement, all the challenges we love to try and overcome.
A couple of St. Louis friends, being St. Louis superstars.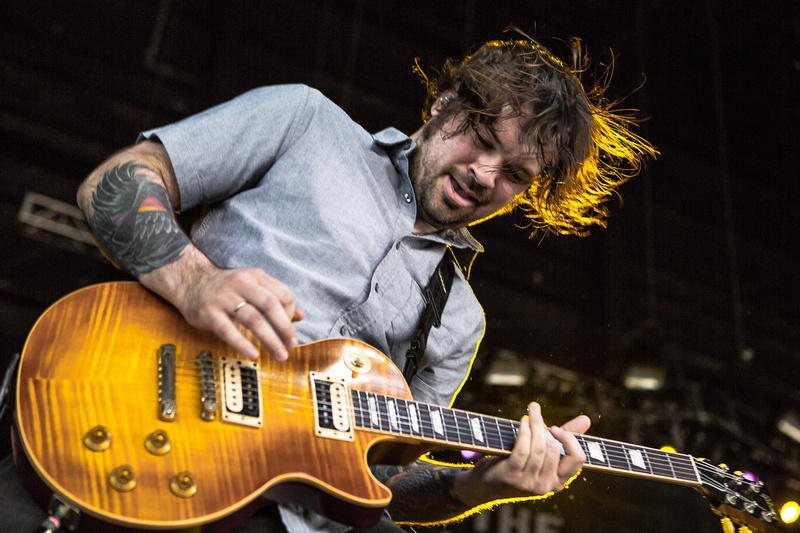 For the second consecutive year, I did a series of images featuring the security guys I often share space with inside the photo pit. I refer to them as 'Pit Gladiators'. Many times they are more entertaining than the act taking place on stage.
The next two are the infamous picture of a picture shot. I'm always looking for the opportunity get one of these in my yearly portfolio. Both of these are from the Jason Aldean set, one focused on the phone as the subject, the other Jason in silhouette as the subject.
Between the songs
They bring the concert experience to life for the deaf, and hearing impaired. Through their body language, sign language, facial expressions, and sometimes wicked dance moves, these folks totally rock.
An awesome experience to be a part of, was shooting 3 days for Live Nation, at the 1st ever Windy City LakeShake Festival in Chicago, IL.
Artist & Fan & Gladiator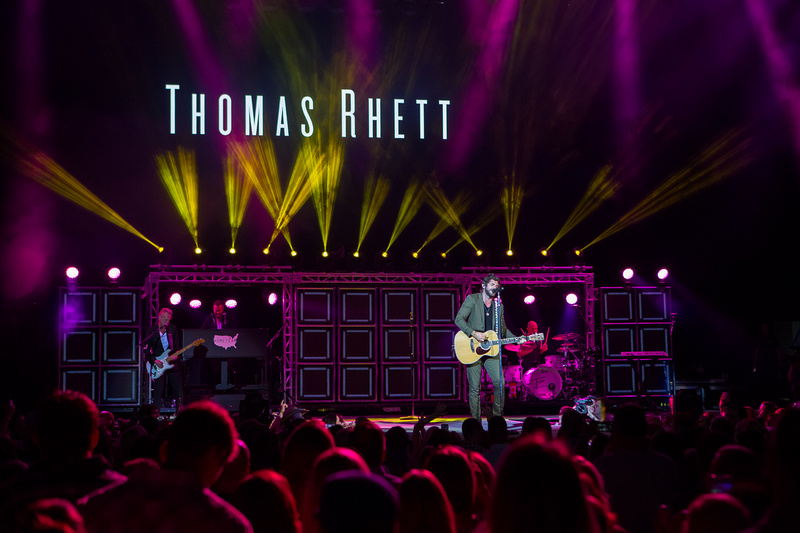 Another from the seat with the Canon G1X MKII
See you all in 2016.. should be another Epic year! ~ KW
All photos © Kenny Williamson/ rknphoto
Full galleries from these shows, can be found at my Rknphoto Zenfolio site http://rknphoto.zenfolio.com