2013 Recap @ Verizon Wireless Amphitheater St. Louis
2013 – Verizon Wireless Amphitheater St. Louis, MO. – I always have fun going back and looking through photos from the season at the shed. This in part is a recap of the shows, as well as my choice of personal favorites that I hope captured the spirit of the night. This may well be the final year with Verizon Wireless on the front door, with a new sponsor on the horizon, TBD. 11 Country shows in 2013 was a new record. Gone were familiar festivals UPROAR & MAYHEM. There were many co-headline shows, and in most cases I selected one performance to represent the evening. Click the link to jump to the full photo set, which will open in a new browser, then come back to the list if you so desire. Thanks as always to my Live Nation StL family for the opportunity to have the Best Summer Job Ever. I'm presenting these in black & white, you can see the original color images when you jump to the original post. The cover shot are front row pit fans from the Iron Maiden show. In no particular order, let's do this…
Grace Potter and the Nocturnals 7/10/13 opening for Dave Matthews Band. This band is so damn good.
Full Post Here
The Band Perry 8/16/13 opening for Rascal Flatts. One of the best performances of the year from a band on track to return as a headliner.
Full Post Here
Avenged Sevenfold 10/11/13 Pointergeist. The final show of the year was a doozy.
Full Post Here
Jason Aldean 9/20/13. Good to be King.
Full Post Here
Ted Nugent 5/18/13 opening for STYX & REO Speedwagon. The Motor City Madman is still crazy fun.
Full Post Here
Backstreet Boys 8/3/13 Yes, the once 17 year old, now thirty something girls still scream for Nick.
Phillip Phillips 7/7/13  opening for John Mayer. This was my favorite shot of the American Idol winner. Pre-show during a meet & greet, taking the time to autograph a young fan's violin.
Full Post Here
Maroon 5, 8/1/13 with Kelly Clarkson. Tour opener, Adam and the boys came out swinging.
Full Post Here
Dierks Bentley 9/6/13 opening for Miranda Lambert. I love me some Miranda, but if my name was Lucy, I'd love me some Dierks.
Full Post Here
Dave Matthews Band 7/10/13 One of my favorite bands of all time to shoot.
Full DMB Post Here. Special Boyd Tinsley Post Here
ZZ Top 8/24/13 opening for Kid Rock. On 3, strike the pose..
Full Post Here
Kid Rock Post Here
Pointfest – P.O.D. 5/12/13. From early in the day, side stage.
Full Post Here
El Monstero 7/20/13 St. Louis loves Pink Floyd. My favorite from the night was spotting this youngster on his dad's shoulders, full rock horns. Father & son bonding at a rock show.. Priceless stuff.
Full Post Here (actually see the band)
Imagine Dragons 9/14/13 When it comes to bass drums, go big or go home.
Full Post Here
Greek Fire 9/14/13 Opening for Imagine Dragons. Great friends, Great band. Fans in front of singer Moon can hear him, but don't realize he's standing right behind them.
Full Post Here
Sammy Hagar 8/31/13 For most St. Louisans, there's only one way to rock.. and that's with The Red Rocker.
Full Post Here
Tim McGraw 5/23/13 This was shot during a up close & personal VIP acoustic performance prior to the show.
Full Post Here
Brad Paisley 5/9/13 The night was what I'd call a 'Telecaster Clinic'
Full Post Here
Heart & Jason Bonham's Led Zeppelin Experience 8/17/13 I couldn't pick just one. So, this shot was after my allowed 3 songs of the encore, where I stood by the soundboard to listen to the brilliant performance of 'Stairway to Heaven'. The crowd went crazy, and I snapped this with my iPhone during the standing ovation.
Heart Full Post Here Jason Bonham Full Post Here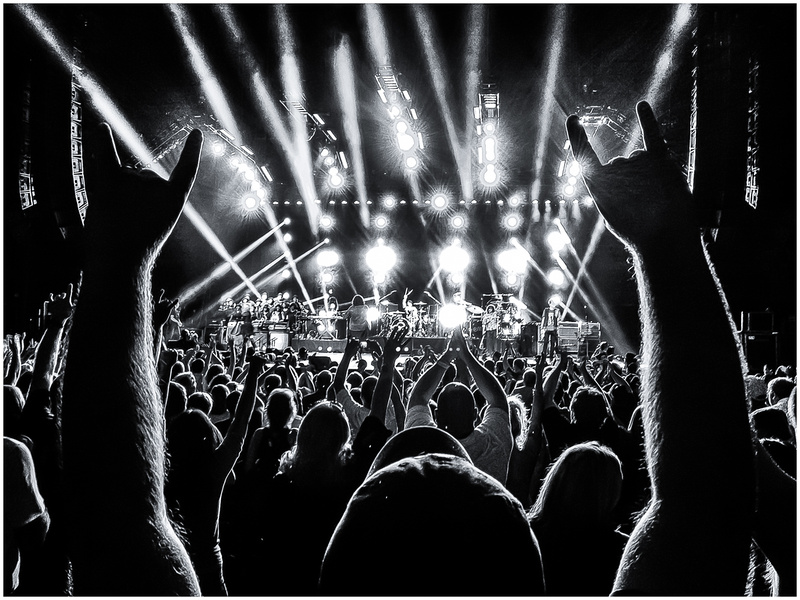 Iron Maiden 9/8/13 With Megadeth. Perhaps the most anticipated show all year, and they did not disappoint. Tour restrictions prohibited me from posting a full set.
John Mayer 7/7/13 Lost in the Blues.
Full Post Here
Lil Wayne 8/11/13 Big fun with my guilty pleasure.
Blake Shelton 7/26/13 He can rock out when he's not charming the ladies.
Shinedown 9/7/13 Once you make eye contact with Brent Smith, he owns you.
Carnival of Madness Post Here
Keith Urban 8/23/13 Keith lit many fuse's on this night. Shot from front of stage with my pocket camera, enjoying the show as a fan.
Full Post Here
Zac Brown Band 6/7/13 Too cool for the Country Mega Ticket. Zac and his Southern Ground friends are always a show not to miss. Quiet moment between songs.
Full Post Here
Goo Goo Dolls 7/9/13 opening for Matchbox Twenty
Full Post Here
Rascal Flatts 8/16/13 Their A game was required following The Band Perry, and they delivered.
Full Post Here
Kenny Chesney 6/27/13 The 1/3 scale Pirate Ship in the parking lot was an indication a party was about to happen.
Full Post Here
There were several shows this year where I did not not include feature posts on Rknphoto.com for various reasons. You can see photos from all shows either on my Rknphoto Facebook Page, or Verizon Wireless Amphitheater Facebook Page.
* I was out of town when Luke Bryan headlined his June 14th show at the shed.
Every year it seems like I say it was the best year. Maybe it's because I seem to enjoy the experiences, and have more fun each year. Whatever the reasons, 2013 was the best.
Until next season, come back here for select arena shows coming to St. Louis through Fall & WInter.. see ya at a show!
All images © 2013 Kenny Williamson