2011 – Damn, this year went by FAST! It's always difficult for me to put together a Top 10 Photo list, or 'Best Of' year end recap. I don't really like words like Greatest, or Best, because it's all subjective. I'll leave that up to you guys what means best, as it relates to your likes and dislikes. Instead, I've put together personal shows, events, moments, and memories from 2011, that made the year special to me. Some of these moments occurred during personal vacations, where all I had with me was my Sony point & shoot camera, others are tours shot in St. Louis for Live Nation. Best Concert Memories encompass many things, as I'm sure they do for you. Anticipation, the company your with, the atmosphere, the city, and most importantly, the energy and passion of the artist (s) on stage. I like all kinds of music, and I love live performances. All I ask of a performer, is when you get on that stage, whether I've paid $5 or $500 for this ticket, is give me 110%. Rock my ass off. Leave me feeling mesmorized, make memories for me. I'll try not to ramble too much as I introduce my selections, but I probably will. Click on the event title to take you to my original post in a new window. Feel free to head to my facebook page if you'd like to share your favorites. I know I've missed more great performances than I've attended, especially at the Pageant, Pop's, Firebird, and Fubar. St. Louis has a lot going on, believe it or not. Just ask Beatle Bob, 10 years of consecutive nights of live shows (or something ridiculous like that). All I know is I'm a fortunate boy. From Merle Haggard to U2, Bob Seger to Foo Fighters, Tim McGraw to Bon Jovi. Thanks for the memories 2011… You were quite awesome. In no particular order, photos after the jump.
U2, Busch Stadium – perhaps the most anticipated show of the year, at least it was for me. Busch Stadium got all dressed up, it was a Beautiful Day downtown. A 2 for 1 event for me.. photograph a few songs, then head to my seat to enjoy the show and date night. If not for the Cardinals winning the World Series in 2011, this show would have been the best thing that happened at the stadium during the year. The show was incredible, the atmosphere was amazing, and this band of 4 Irish dudes are pretty dang good.
New Orleans Jazz & Heritage Festival – this was a personal vacation, and a very cool one. The NOJHF, or jazzfest as they call it, is probably the only major festival that allows people to bring in professional cameras. Anything goes. If you can get there early enough, and get a good spot up close to the stage, you can shoot all you want. Of course, since I was on vacay, I chose to hang back with the masses, sit in my comfy chair, and get drunk. But not before snapping a few from the day. The first shot was during Bon Jovi (I know right? Jazzfest?) .. yeah man, this festival rocks. FYI, 2012 Jazzfest features Foo Fighters, Tom Petty, Eagles, Beach Boys, & John Mayer.
Merle Haggard / Kris Kristofferson at the Fox Theatre –  Talk about being in Awe of Greatness. I love singer/songwriters, story tellers, and it doesn't get much better than this. These guys have lived it all, seen it all, and logged more road miles in the last 50 years than all UPS drivers put together. I went to the show as a fan, and the Sony point & shoot came in handy.
Foo Fighters, Scottrade Center – I am a fool for the foo's. 'Wasted Light' is my favorite release from 2011, simply brilliant, in your face, rock n roll. One of the hardest working bands on the planet, they have a reputation of playing hard, playing long, and delivering a rock show you will remember. Mission accomplished from Dave Grohl and the guys.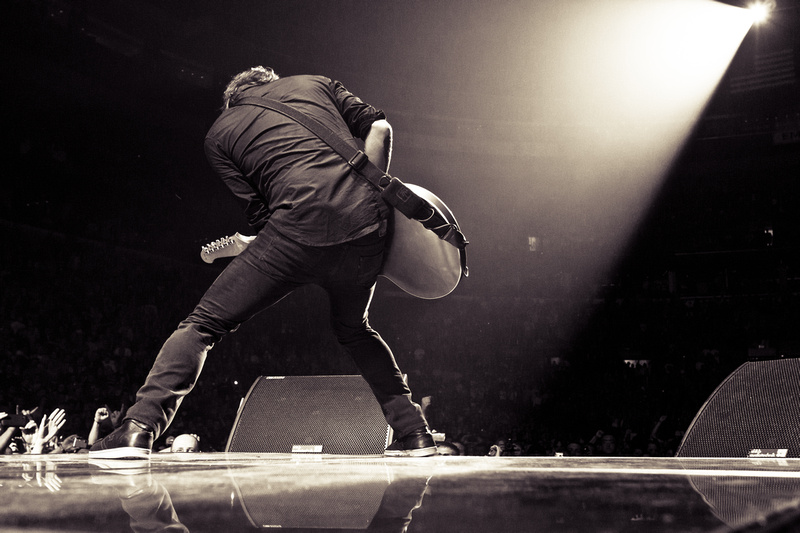 Pointfest 28/29, Verizon Wireless Amphitheater – Held twice a year at the shed, a Spring version, and a Fall version, I always look forward to this day. It's a full, action packed day rock fest, beginning on side stages around the venue, then closing with 5 touring bands on the amphitheater's main stage. 105.7 The Point, knows how to connect with their audience. When it comes to bringing bands on the radio, to the stage, no one does it better, as often, and as good, as The Point.. period. Photos below of BUSH, Greek Fire, and Brookroyal.
Speaking of GREEK FIRE, it goes without saying, this band has captured the attention of everybody paying attention. I photographed these guys 9 times in 2011, twice out of state. This is a St. Louis band, unsigned, that brings everything to the table that a concert goer, and photographer could ever expect. Not just one show, but for the whole year, and all 9 shows, my favorite part of this year was watching this band evolve, seeing the fan base grow into the thousands, and getting to know these great guys. Still humbled, still driven, and not content with delivering cookie cutter rock band stuff.
Van's Warped Tour, Verizon Wireless Amphitheater – How many bands can we fit into a 7 hour day…? I lost count after thirty. This crazy day of diverse rock n roll is as much about the atmosphere and people, as it is about the music. Every band is accessible via their booths that line the perimeter of the venue, where you can also buy trinkets and tee shirts to your hearts content. The cool thing about the day, is you don't know the schedule until you arrive. Plan on going later in the afternoon? Well, you may of just missed the headliners from the last stop of the tour. This one always leaves me exhausted, but with a smile on my face as I pass out.
SADE, Scottrade Center – Let's face it. To many of us 40/50 somethings, Sade was the bomb back in the day. It's 'third' date night, a bottle of wine, then put on a Sade cd… Ahh, those were the days. She still looks and sounds stunning. The stage and set design, along with the lighting, and tasteful visual backdrops, was groundbreaking. Bar none the best 'Visual' show I've ever seen. Unfortunately, this was witnessed from my seat, because we were only allowed to shoot the first 2 songs, and as usual, the great stuff didn't begin happening until song 3. John Legend opened the show, which only made the evening go from Great to Greater.
Tim McGraw, Verizon Wireless Amphitheater – This was my favorite from the Country Mega Ticket shows this year. This is a tough business, this Country business. No room anymore for the twenty five year veterans, right? Wrong. In the age of younger & fresher, Tim McGraw reminds us that he's not ready to headline Branson just yet. Fans Love this guy, and he gives the love back. One thing I love about a McGraw tour, he always brings supporting talent destined for greatness (in the past, Taylor Swift, Lady Antebellum). This year's support was The Band Perry, and Luke Bryan.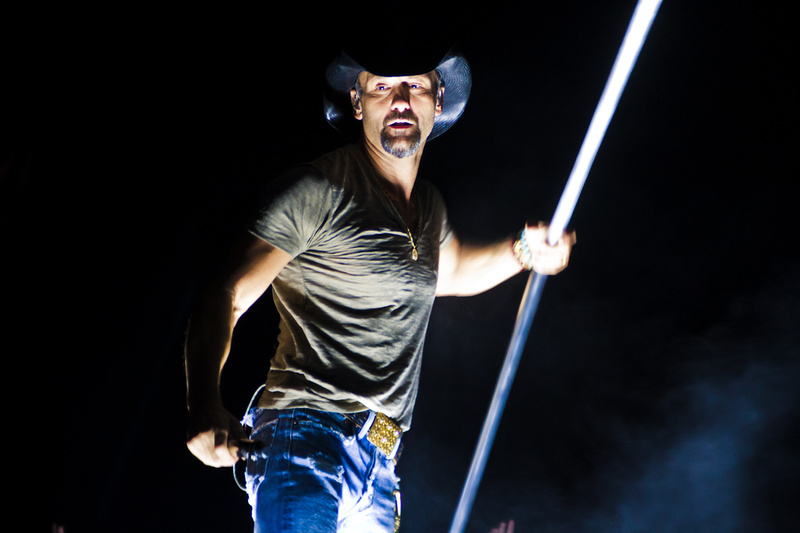 Chris Brown, Kelly Rowland, & T-Pain, Verizon Wireless Amphitheater – Surprised? Don't be.. I still like to get my R&B Groove on, and this show delivered the one-two-three punch I was waiting for. I've always thought CB was one of the most talented performers in show biz, and after a little time off to deal with his personal crap, he's back. Again, 110%.
Kid Rock / Sheryl Crow, Verizon Wireless Amphitheater – Seemed like kind of a strange bill when announced, but turned out to be brilliant. Kid Rock was up there at the top of my favorites list from 2010 (first time I saw him live). The guy does it all, plays it all, can bring the show down a notch, only to kick it back up two. Sheryl Crow is very comfortable in her own skin. Seemed happier than I've ever seen her, and never sounded better.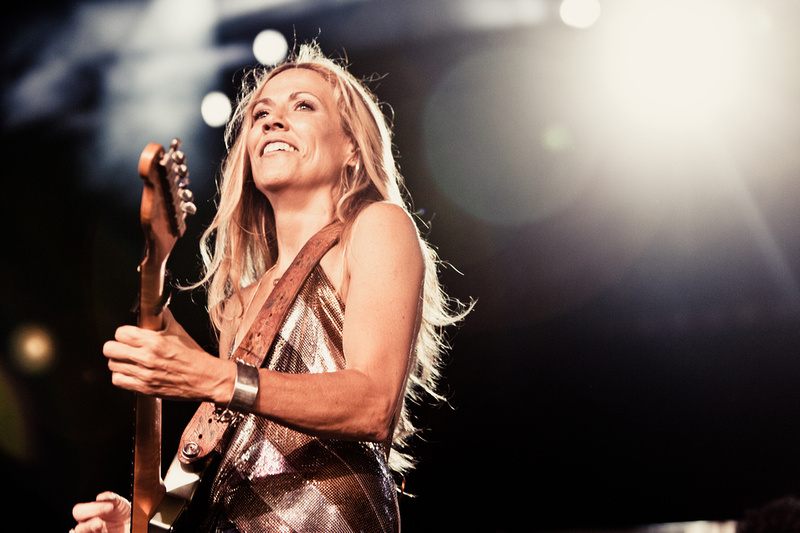 Uproar Festival, Verizon Wireless Amphitheater – the headliner this year was Avenged Sevenfold. Collectively, these guys are off the chart as far as musicians go. I don't think they play anything with a simple 1-2-3-4 rhythm, yet it's not too goofy that it doesn't feel like heavy rock n roll. Millions of fans can't be wrong about why they love this band. Sometimes it's best to not over think things, probably why I love this band too.
Bob Seger and the Silver Bullet Band, Scottrade Center – Another 2 for 1 date night for me. Bob Seger's Live Bullet album was a major part of my 'transition to manhood' days. It's quite remarkable the songbook this guy has put together over the years. 2 hours straight of 17,000 people singing every song, word for word. Great band behind the man, playing no frills, good time rock n roll.
You.. The Fans, anywhere there is a stage and microphone – People that love music, and go to concerts, are my kinda people. I am a habitual people watcher, in a good way. The energy and enthusiasm of the crowds at the shows is incredible. So many people wanting to have fun, leave there troubles at home for a few hours, and just wanting to have a little fun. It's a beautiful thing music is. And ladies, if you stand in front of a photographer, wearing an outfit like this, well.. you'll end up on the world wide web. Shot this 1st pic for artistic purposes only, honey.
And to Close out my 2011 Favorite Things, I have to give a shout out to The Photographers, my friends and colleagues that I see regularly in the photo pits. These are amazingly talented artists, who share the love of music and photography as I do. Please check out their work, hit up their facebook pages, and support the publications and services they shoot for. We can sometimes spend a lot of time before a show, and waiting between acts before heading to the pit. I'm glad I spend this time with people I like and respect. These people inspire me to always try harder, and never stop learning.
Todd Owyoung has been a mentor and friend for many years. His work can be seen regularly on Metromix, RFT, and anywhere else good concert photography is seen. Todd Morgan is a morning on air personality on KHITS 96. This would be enough of a cool thing for most of us, but no, he has to be an awesome photographer as well. Todd shoots all the Point events, as well as being the house photog at Peabody Opera House. Jon Gitchoff is everywhere. Regular assignments wherever the action is with Metromix, RFT, & StLToday keeps this dude very busy. Sarah Conard shoots regularly for the Post Dispatch & StLToday, as well as shooting for Reuters Wire service, covering everything from disasters (Joplin, MO.) to World Series. Sean Derrick is great with the camera, as well as the pen. He writes articles and reviews for the examiner online publication. And Scott Keifer, writer, editor, photographer with the Sparta, IL Journal, he keeps all of us laughing, has the best roll with it attitude of anybody I know, and is damn good at what he does. These are the folks I see most often, however there are many others, all of whom are pretty cool peeps.
And this crew… always a favorite part of any year. Randy Fechtler and his security team. Happy to be on their good side, especially when crowd surfers moshing behind me are about to kick me in the back of the head. Thanks for keeping all of us safe guys!
To reflect back on 2011 even further, head to the RKNGallery, and browse through all the shows I've shot this year. Happy New Year everybody!.. see ya in 2012, hopefully at a concert venue  having some good times!